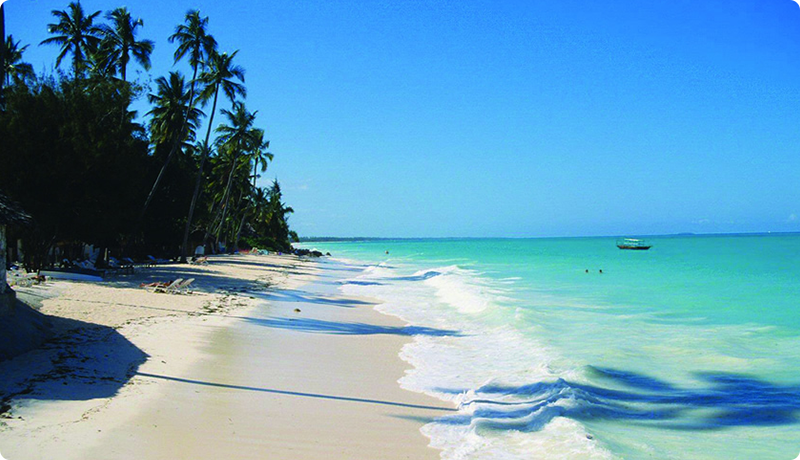 Zanzibar
Located off the coast of Tanzania, Zanzibar is an archipelago consisting of two big islands (Zanzibar Island and Pemba Island) and many smaller ones. From the perspective of international tourism, there is no place like Zanzibar. The place, especially the popular Stone Town, showcases a good mix of historical influences from African mainland, Europe, Indian subcontinent, and Arabian Peninsula. When you think of beaches, the first destinations that come to mind are probably Hawaii, Bali, or Cabo San Lucas, while Zanzibar is more often than not overlooked. In reality, Zanzibar offers some of the best stretches of sands in the world. Once you get there, the access to the beaches is an easy drive; beaches are within close proximity to each other as well:
On the southeast, the beach delivers sights after sights of dolphins offshore
On the west, there is an undisturbed coral garden to refresh your eyes
East coast delivers the hub for you to have parties and fun surf; community-minded people also live in villages here
On the northern area, beaches are sprinkled with bars and plenty of tourist activity centers.
Please understand that some (if not many) of the destinations all across Zanzibar are community resources, which are still fragile and under development. You cannot do anything you want here, but this is where you can really appreciate and learn about the nature while having a real treat.
Regardless of which part of the beach you are in, you'll be able to stretch out on daybed or sleep in a hammock just like what you see for too many times on TV. You may think everything is made up or computer-generated graphics designed to fool your eyes, but they are real in Zanzibar beaches. To give you a better picture, the experience strikes not only on your relaxed body but also on your senses with the smell of tropical fruits flying to your nose. Tropical sunlight and the aroma of organic coconut will bathe you with peace and health. Even when the tide of Indian Ocean goes out, the treat is not over as you can still witness small marine creatures on the shore while you are walking on the natural pools.
Stone Town of Zanzibar
Apart from the beaches, Zanzibar really shines its beacon thanks to the Stone Town. Having long history as a trading town, reminiscence of urban living shaped by the cultures of Africa, Arab, India, and Europe is strong. As a matter of fact, many of the physical remembrances remain intact. Most of the architectural styles are still the same as they have always been for more than a thousand years. The inner city of Stone Town is one of UNESCO Word Heritage Sites, mainly because of its unique blend of architectural styles. Inner city is pretty small, and the best way to explore its beauty is by foot. If you are willing to spend a day walking through the small alleys, you'll be mesmerized by how complex it was a millennium ago. It is like a labyrinth that consists of historic buildings. Some of the old places have been converted into functional modern-day businesses such as restaurants, hotels, clubs, and even boutiques.
First you go to the beaches, wander around the Stone Town, and usually you will end up in the beach again, Instead of lying around on your hammock and do the same exact things you did earlier, you may want to consider surfing. The Southeast Coast surfing is increasingly popular in Zanzibar, and there are plenty of surf shops where you can rent the equipment. Best thing of them all: the coast is quiet, water is crystal clear, the reefs are flat, and all are beginner-friendly. Please make sure you have knowledgeable instructor for surfing; even if the coast is friendly-enough, some sections have too many sea urchins to be considered safe.