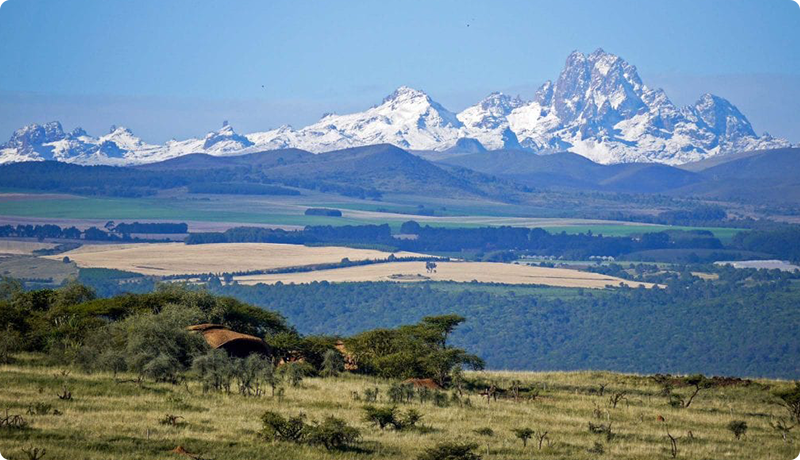 Mount Kenya
Standing at nearly 5,200 meters above sea level, Mount Kenya is the highest mountain in Kenya and only second to Kilimanjaro all across Africa. When it was an active volcano (around 2.5 million years ago), the mountain was probably much taller at around 6,500 meters. Nowadays it is a popular hiking site with a lot of attractions including 12 remnant glaciers, wildlife, and local cultures. Communities who live in the site consider this a holy mountain. Traditional rituals are performed on regular basis to honor God Ngai and his wife who live at the peak of the mountain. Not only that Mount Kenya is the second highest in Africa, but it is also the most beautiful. Mount Kenya stands within the territory of Mount Kenya National Park. They are listed as both UNESCO World Heritage Sites and UNESCO Biosphere Reserve.
Mount Kenya has three highest peaks including Batian at 5,199 meters, Nelion at 5,188 meters, and Lenana at 4,985 meters. Most visitors are more than happy to reach Lenana, because the two higher peaks are only possibly reached by experienced skilled mountaineers. Although Lenana is not the highest, this point gives a mesmerizing view of the park and content adventures. You may have to spend a bit more times at the peak to wait for the cloud to break apart and reveal the view of lower grounds; this is where everything comes together.
Another good thing about Mount Kenya, also the main reason why many consider it most beautiful mountain in Africa is that you can take different routes for the ascend and descend. Even Kilimanjaro does not have enough routes for you to do that. It also means going up and down offer different scenic views of the surrounding areas.
When to Visit
Climate varies dramatically between the park and the mountain. As you ascend, temperatures will be lower than on surface level. At higher altitudes, the temperature can drop to only about 4°C during the night. Mount Kenya is quite wet in general throughout the year; the best time to visit is during the driest months from January to February or August to September.
Wet routes and high altitudes make good recipe for danger, so please do not under estimate the difficulty of the trek. Prepare you hiking gear properly, take a rest in a camp instead of a hut, and cook your own meals. You do not want to wander around the mountain to hunt for rabbit.
Mount Kenya National Park
In 1994, Mountain Kenya National Park was established to protect the mountain. By mountain, it means the ecosystem, wildlife, local cultures, and everything else that naturally exists in the mountain. It plays major factor in the survival of animals and the communities who live nearby. Mount Kenya provides habitats for wildlife and helps store enormous amount of water supply for everyone below.
The existence of Mount Kenya National Park is supported by two key components including Lewa Wildlife Conservancy and Ngare Ndare Forest Reserve. In the buffer zone among those three properties, there is a corridor that acts as gateway for herds of elephants that move between Mount Kenya and larger conservation area of the Maasai/Somali ecosystem.
Some areas in the mountain are inhabited by locals of different cultures. They grow crops for foods and live in good harmony with wildlife. Volcanic sediments of the mountain has made it ideal for farming; added with more than enough supply of water, agricultures produce sustainable source of foods. In 2004, Kenya's government launched a preventive project in an attempt to discourage animals from straying into agricultural areas by installing electric fences. A small portion of the park's borders (near the heavily populated areas) has fences that discharge electric shock, but only at minimum level; it is not dangerous to the animals and humans.
Wildlife
Apart from offering great hiking experience to mountaineers, Mount Kenya National Park is also home to pristine wilderness with lakes, falls, glaciers, and endemic vegetations. Wild animals are abundant including but not limited to:
Black and White Colobus monkey, Leopard, Sykes monkey, Giant forest hog, Olive Baboon, Genet cat, Buffalo, Bush pig, Bushbuck, Mole rats, Waterbuck, Tree hyrax, Eland, Porcupine, Black Rhino, White tailed Mongoose, Black fronted Duiker, and Hyena. Forest antelopes are also here including the elusive Bongo.
Some rare and endangered species for examples Mount Kenya Mole Shrew, Sunni Buck, Skinks, Albino Zebra, and a variety of Owls have found home in the national park as well. In addition to those land animals, the national park has at least 130 species of birds such as olive pigeons, giant kingfishers, Augur Buzzards, sunbirds, starlings, alpine chats, red-fronted parrots, and Verreaux's Eagles.
Local Cultures
Mount Kenya is inhabited by four main ethnic groups as follows:
Kikuyu: inhabiting both the southern and western sides of the mountain, Kikuyu people are agriculturists. They take advantage of the fertile grounds and good supply of water to grow crops on lower slopes of the mountain.


Embu: the southeastern area of Mount Kenya is home to Embu people. They are close relatives of Mbeere and Ameru people.


Ameru: occupying the northern, eastern, and northwestern areas of Mount Kenya, the Ameru people have learned to grow crops and keep livestock. As a matter of fact, those three areas are among the most fertile in Kenya.


Maasai: unlike the aforementioned three ethnic groups, Maasai people are semi-nomadic. They keep livestock and use the land north of the mountain to graze their cattle.
All in all, Mount Kenya and Mount Kenya National Park offers the perfect opportunity not only to explore the wilderness but also learn how indigenous inhabitants have learned to live with wild animals in good harmony. People take advantage of the abundance of natural resources, while the animals live and roam freely without being disturbed. At the peak of the mountain, you have the chance to see the panoramic views of the park and get surrounded by rare yet thriving pristine ecosystem.